Vision, Values & Beliefs
About Us
First Presbyterian Church, a member of The Presbyterian Church (USA), is an affirming Christian community that welcomes all whom God calls into the life, worship, work, and leadership of this church, regardless of gender, sexual orientation, race, or socio-economic status. As we are freely loved and accepted by God, we offer love and acceptance in this congregation.
Vision, Values, and Beliefs
"We love because He first loved us." (John 4:19)
Our church's mission, vision, and values are fundamental to who we are and how we use our time, talents, and resources.
Our Mission
To inspire faith in Jesus Christ, nurture disciples of Jesus Christ, and to serve the world God loves to the glory of God.
Our Vision
FPC is a vibrant Christian community where all are welcome, follow Jesus Christ, respect one another, and are strengthened and inspired through worship, study, prayer, and service.
Our Values
As we live out our mission and vision, we seek to uphold our values, to be:

Grounded in the gospel, and rooted in the Reformed tradition;

Growing together as we answer Jesus's call to discipleship, and as we deepen our understanding and faith in God;

Generous in sharing our resources and skills, and in welcoming newcomers openly and without reservation.
What Presbyterians Believe
Presbyterian theology emphasizes the sovereignty of God, the authority of the Scriptures, and the necessity of grace through faith in Christ.
Our beliefs as a church are recorded in the PCUSA's Book of Confessions.
An excerpt from our Brief Statement of Faith: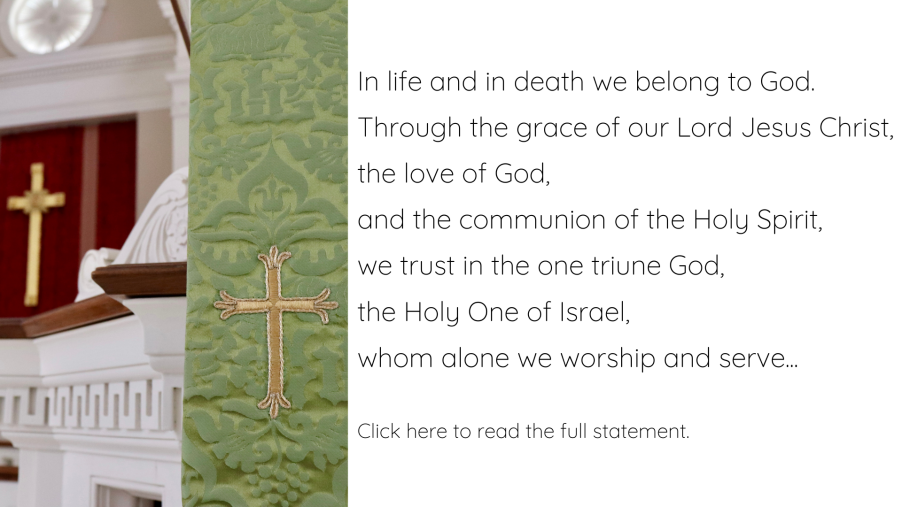 The most recent addition to The Book of Confessions was the Confession of Belhar, a confession growing out of apartheid-era South Africa. It was added to the The Book of Confessions at the 222nd General Assembly (2016). More on the beliefs of the Presbyterian Church (U.S.A), both in theology and on social issues, can be found here.
FPC is a member of The Presbytery of the James, which is made up of other nearby PCUSA congregations, and The Synod of the Mid-Atlantic, which is a regional, mid-level association of churches in the denomination.
To learn more about the history of First Presbyterian Church in Richmond, we invite you to read Footprints of the Saints: A Narrative History of First Presbyterian Church, Richmond, Virginia, 1812-2012, a rich history of FPC with many vintage pictures. Copies are available in the church library. Click here for more details about our history.
Serving Others
FPC is committed to establishing and sustaining transformative partnerships with nonprofit organizations throughout metropolitan Richmond, and beyond, as we share in the work of justice, peace, compassion, and equity for all God's children. Learn more about our local outreach efforts here.
Nurturing Disciples
Faith formation for all ages is a cornerstone of FPC. In addition to our programs for Adults, Youth and Children, an important ministry of FPC is the First Presbyterian Preschool, founded in 1956 as an educational service to the community.